Jaguar XE Project 8 tops its previously set record on the north loop of Nurburgring setting 7min 18.36sec on the 20.6km lap
It may be an entry-level saloon in Jaguar's line-up but it does not get mightier than this. Project 8 is what happens when you generously performance pile a Jaguar XE with manic performance parts. With only 300 examples of the Jaguar XE Project 8 was already the fastest saloon on the infamous Nordschleife Nurburgring. In this new feat, XE broke its previous record by 2.9seconds and now stands 7seconds faster than its next saloon competitor. Jaguar Project 8 development driver Vincent Radermecker is Belgium race driver who piloted it to a nerve-racking 7min 18.36sec lap time. Watch the 360-degree video captured onboard:

As I've mentioned tyres are amongst the most critical elements in decreasing lap times, Project 8 is fitted with Michelin Pilot Sport Cup 2 R rubber to tackle immense heat and pressures. These are ultra high performance tyres which are surprisingly road legal as the entire car is in all its ridiculousness. It makes highly processed 592bhp 700Nm from its 5l supercharged V8 putting the power down to all its four wheels. Jaguar engineers have used a lot of aluminum and carbon in its structure to keep the weight as low as possible. In straight-line naught to 100kmph takes 3.7sec all the way to a top whack of 320kmph. The underbody is completely flat aiding aero performance along with the tunable rear wing for further accuracy.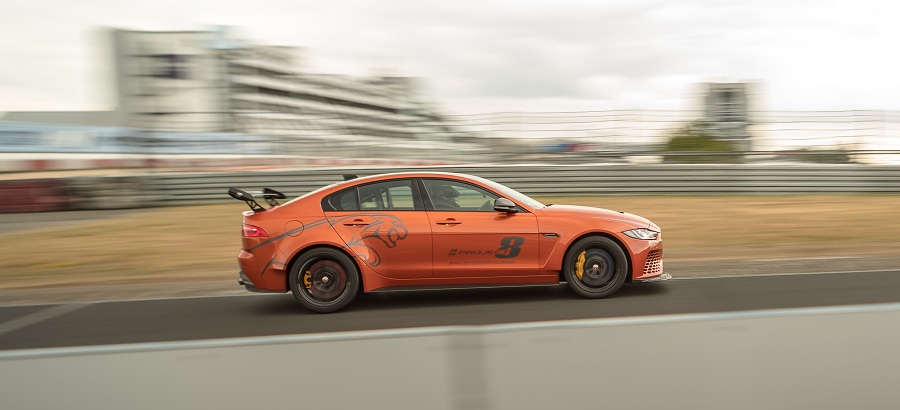 Project 8 production will end this year so if you want one you don't have enough time to save. If you do Jaguar XE Project 8 is available in three trims,
Lightweight Track Pack in 2-seater configuration. Used for breaking this record here.
The 4-seater version of the Track Pack. It has the same performance figures with the same aero aids.
A Touring spec variant limited to 15 units. It has a top speed of 299kmph and a fixed rear wing.