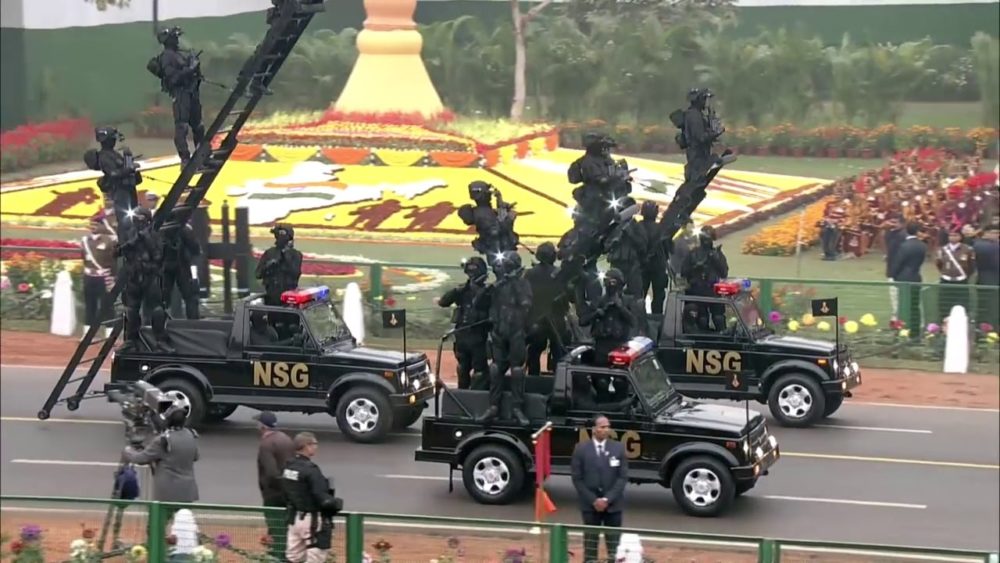 Indian Army vehicle fleet includes models like Tata Safari Storme, Maruti Suzuki Gypsy, Mitsubishi Pajero and Toyota Fortuner
Indian Army is the second largest armed force in the world, next to China. It is bigger than armies of global superpowers like USA and Russia as well. For any army in the world swift mobility is a prime necessity. For this purpose, the Indian Army uses a wide range of vehicles. These purposes include patrolling, carrying arms and weapons etc. Indian Army vehicle list includes some heavily powerful SUVs like Tata Safari Storme, Maruti Suzuki Gypsy, Mitsubishi Pajero, Toyota Fortuner etc.
These Indian Army vehicles not only are agile but rigid and capable of going anywhere. With a vast territory bordering with neighbouring countries like Pakistan, Bangladesh and China, these Indian Army vehicles ensure a strong mobility solution.
Like the technologies, arms and weapons, Indian Army vehicles too have evolved since independence. Now, as the country is celebrating 70th Republic Day, we get to watch a host of Indian Army vehicles on the defence force parade in the capital city and across all the state capitals. We take the chance to take a quick look at the SUVs in the Indian Army vehicle fleet that have been playing a key role in the country's service.
Maruti Suzuki Gypsy King
Maruti Suzuki Gypsy has been playing a key role for the Indian Army's mobility for a quite long time. This agile and rigid 4×4 Maruti Suzuki SUV is known for its capability of going anywhere on any terrain. The SUV is used for patrolling, carrying high-rank officials and transportation of troops as well. It has proved the mettle gracefully, be it on the desert, on hills or muddy terrains.
This versatile Maruti Suzuki SUV runs on a 1.3-litre single-cylinder petrol engine. The tried and tested diesel engine is capable of churning out 80 bhp of peak power at 6,000 rpm and 103 Nm of peak torque at 4,500 rpm. Produced since 1985, the Maruti Suzuki has been largely unchanged for years. However, recently Indian Army decided to phase out the SUV and replace it with Tata Safari Storme.
Tata Safari Storme
Tata Safari Storme has proved to be one of the best off-roaders in India. With powerful powertrain, go anywhere capability, 4×4 drivetrain and muscular appearance, this SUV has been chosen to serve the Indian Army. With a few changes introduced, the Tata Safari has been inducted to the Indian Army vehicle list. The changes include some useful equipment and matte green signature army colour.
The other changes for the Indian Army-spec model include a spotlight, jerry can holder above rear fender, bonnet antenna. Also, there is a winch hook at the rear of the SUV. Tata Motors has changed the 4×4 high and low ratios as well. This SUV is powered by a 2.2-litre four-cylinder turbo-diesel engine that kicks out 154 bhp of power and 400 Nm of maximum torque output.
Mitsubishi Pajero
Mitsubishi Pajero might not be very popular among the civilian customers. But, this rugged and tough SUV has proved to be a very capable vehicle for the Indo-Tibetan Border Police (ITBP) in North-East region of India. The ITBP generally uses this SUV for patrolling the Indo-China border. Apart from the ITBP, the Mitsubishi Pajero has also served various branches of defence services of India.
Speaking about the power source of the Mitsubishi Pajero, this SUV gets energy from a 2.8-litre turbo-diesel engine. This engine is capable of churning out 120 bhp of peak power and 280 Nm of peak torque. Painted in Indian Army signature green colour, this SUV also comes with weapons mounted on the roof.
Toyota Fortuner 4×4
Toyota Fortuner is one of the most popular SUVs in India. Apart from civilians, the Indian Army also uses this SUV. The SUV plays a significant role among the Indian Army vehicles. This big SUV is agile and tough. Indo-Tibetan Border Police or ITBP uses specialized Toyota Fortuner 4×4 for patrolling. Apart from that, this vehicle is banned for other purposes.
The SUV comes loaded with some necessary equipment. The list of equipment loaded on the specialized Toyota Fortuner for ITBP includes radio communications gears. Also, it can carry heavy weapons when needed. The power source for this SUV is a 2.8-litre diesel engine that churns out 174.5 bhp of peak power and 420 Nm of maximum torque.
So far, these are the SUVs in the list of Indian Army vehicles. However, besides these, the force also uses other different types of vehicles for different purposes. Recently, the Indian Army has decided to introduce Polaris Snowmobile for using in snow-covered mountain regions.
Force Gurkha is an interesting SUV to follow. This SUV might not be very popular, but it is a well capable car to go on any terrain. Indian Army could consider this model as well. We won't be very surprised to see this SUV as part of Indian Army vehicle list in future. Currently, Force is working on the new generation model that will launch sometime next year.
For the Latest Car News Follow Us on Facebook, Twitter, Instagram, Google Plus