Positives: Convenience of an automatic with diesel efficiency; ground clearance; attractive design will stay fresh for a few years; well equipped
Negatives: Better plastics are needed; gearbox needs more refinement; rear seat ingress egress; fat A-pillar hampers vision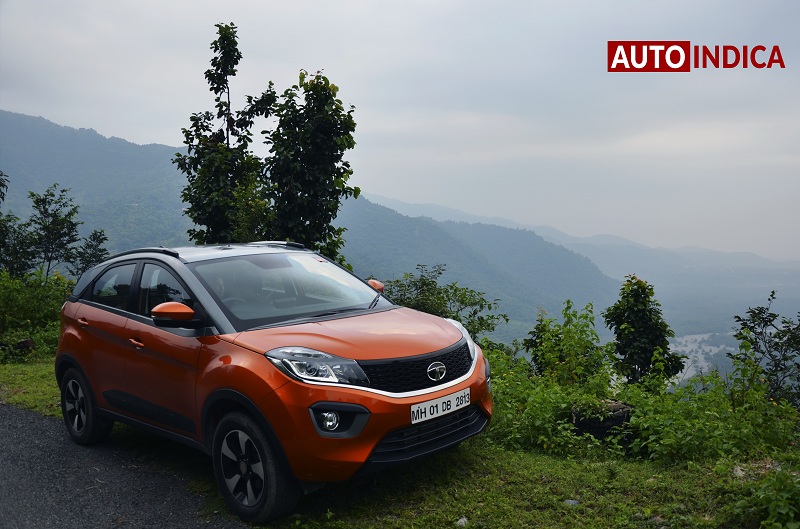 Tata Nexon Diesel AMT: By now almost everybody knows Tata Motors has changed a lot. They have a product line which surely confuses you while you set out buying a new car in the respective segment. The quality has gone up, dynamics have been bettered and so is the pricing strategy. One look at the Nexon and you know who the crowning jewel is. This compact SUV is one of the coolest looking in its segment, sits high off the ground to handle rough with ease and equipped extremely competitively against its direct rivals. Here we have on test the diesel Hyprdrive, as in AMT, for a few days and I am happy to announce it strengthens my faith in Tata Motors.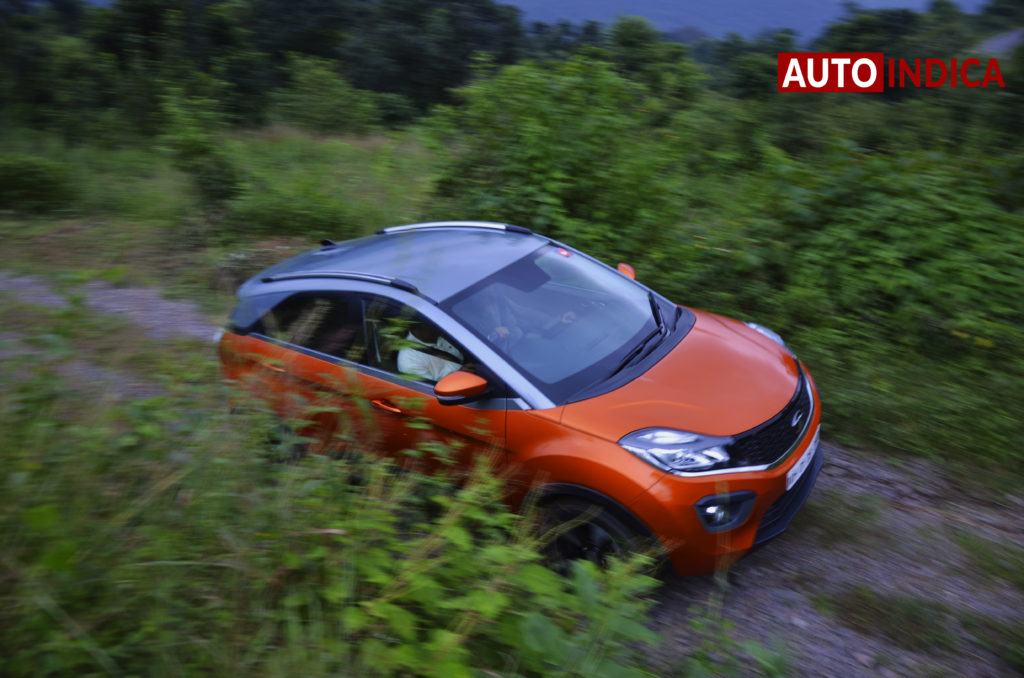 The way it looks
When Nexon first came out on streets, oh how we rejoiced that a design shown as a concept could actually make it to production. This also increases the optimism around the upcoming Harrier design. Nexon sits tall at 209mm carrying a more coupe sort roofline than boxy SUV, which is a very redeeming feature for its design. And this dual tone orange with silver, on this top XZA+ variant only, looks brilliant in every way, catches eyes from people sitting in more expensive cars. Then are the protruding curves and edges, especially the front and rear lower extremities look radical and break conventional design theories. I also like the fact the Tata kept tyre profiles high with smaller diameter rims to improve ride quality and not compromise its rough road dynamics. Alloys look less flavourful, but are practical which is more important.  Tata Motors has a new 'Imaginator' platform, generally to customise your Nexon with colours and upholstery options before you take delivery. Great going as compact SUVs, especially Nexon, is more a statement than just a mode of transport.
On the inside
The exterior might look compact but its brilliantly spacious inside. Both front and rear passengers will be comfortable, regardless of dimensions, with lots of space to move around. Driver's seat can be adjusted for height which will give you an aware commanding view ahead, much needed on trails or tight city traffic. Seats too are well cushioned and supportive, and you need that in a tall riding SUV where body roll is a definite by-product. The dashboard design is interesting with a 6.5inch touch-screen infotainment taking the centre supported by 8-speaker Harman system. Now you get all the connectivity options possible, Bluetooth, Aux in, Android Auto, Apple CarPlay, etc, unless you're still using shiny silver round discs called DVDs, in which case just don't. Automatic climate control quickly cools down the cabin, and thanks to rear vents with fan speed controls, everybody is comfortable inside. And best of all I applaud the engineers for quietening the cabin so well that you nearly forget it is a diesel engine under the bonnet. There are a few nit-picks like why is the unlock/lock switch so tiny and out of quick view, and how deep the rear passengers sit against the shoulder line, and why on earth are the front bottle holders shaped to release the bottle as a projectile under hard braking. But calm self! These are just tiny annoyances that you'll become used to, and the rest of the car is just excellent to throw blames at it. Tata products may have slight rough edges which will keep ironing out with time.
Under the bonnet
This 6-speed AMT Hyprdrive is powered by a 1.5l turbocharged diesel engine which puts out 108bhp along with a strong 260Nm peak torque figure. In contrast all its direct rivals, Brezza, Ecosport, WR-V, make do with torque near 200Nm. Just stating that when you go past turbo lag, there is a lot of poke to propel you to triple digit speeds easy-peasy. But then this one is a diesel automatic and only the Brezza comes price close with much less torque and similar equipment figures. You also get a knob selector to choose between City, Eco and Sport modes for the gearbox. As the name suggests, City is the default with optimum shifts for smooth and comfortable driving. Eco is when you need to squeeze more efficiency with less responsive kick downs. Sport is where my interest lies most, it holds gears for you through accelerations and downshifts with quicker response. What I liked was these modes do change the car's responses and can be used on the fly as the current need be. Since there is so much torque, you do have to be careful of torque steer. Me thinks a little steering dampening could solve the issue. But rest assured this engine will keep you entertained with its strong confident pull, could do with more refining though.
Fuel efficiency & Safety
This again is an area where lesser people will complain. I got a constant 18-19kmpl realistic number combining heavy traffic and evening on highways. But be advised there is a method to get better fuel efficiency from an AMT box. A full tank on the Nexon diesel AMT will be able to give you a near 700km range. Being gentle on the throttle and anticipating shifts will get you great numbers. And don't think that is too much to think about, you're foot will become habitual in a few days. Tata Nexon received a 4 star NCAP rating which speaks itself of its safe structures. You get two Airbags up front, child seat anchors in the rear and ABS braking with EBD. The Goodyear Excellence have a 215mm patch which is has enough grip for tarmac roads and performs decently on slippery surfaces too.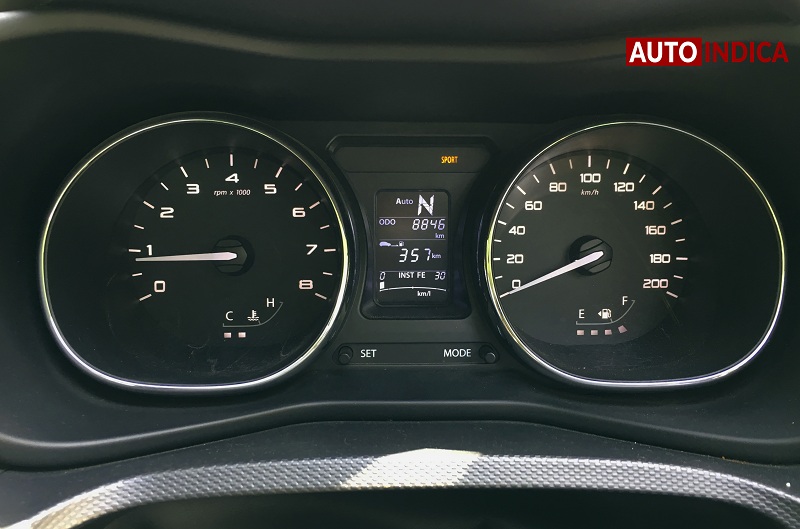 Rides well too
As I mentioned earlier, Tata engineers did not give large diameter fancy alloy wheels and kept it practical with a higher tyre profile. This transforms into smoother ride quality from slick tarmac roads to rough monsoon infested potholed roads. But it still is on the stiffer end of the rope when you take on corners at faster paces. The wide A-pillar hampers vision while you are cornering quicker, one critical issue that is faced. Body roll is very evident and you would rather acquire a different strategy, slow down for corners and steam out of them like a rocket riding a wave of torque. Brakes too are good and bring the car to an instant halt, but they do lack initial bite which should be looked into. Most prospective customers might take this as brake fade on test drives, which Tata must address.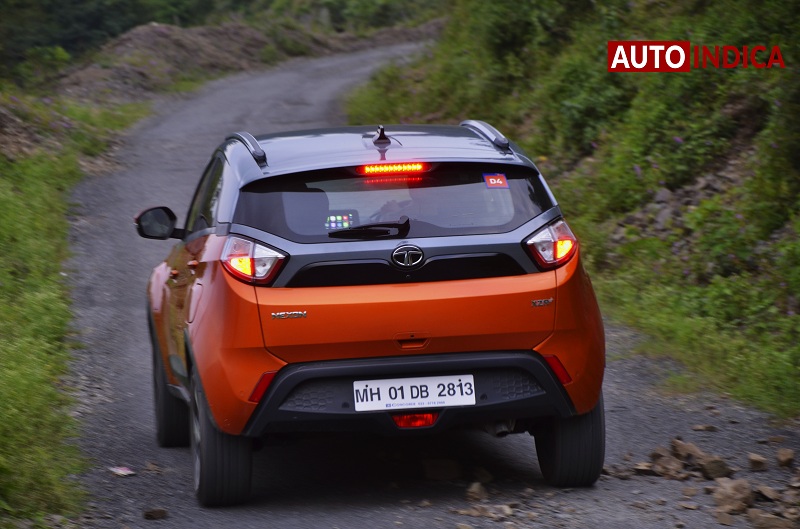 Verdict
I had a great time with this funky little SUV. It has a lot of diesel poke to keep you entertained, the cabin stays quiet when you're having a conversation with the occupants and at the end of the day kept the wallet heavy through these expensive fuel times. And what's more, that automatic gearbox keeps you stress free letting you enjoy David Bowie on the Harman speakers. There are slight issues, but they are definitely not a deal breaker for you. Its direct rival, Maruti Suzuki Vitara Brezza AGS has harsher ride and a smaller boot. Nexon looks way cooler to overlook as a buying choice, and with this automatic option it definitely is a convenient choice as well.