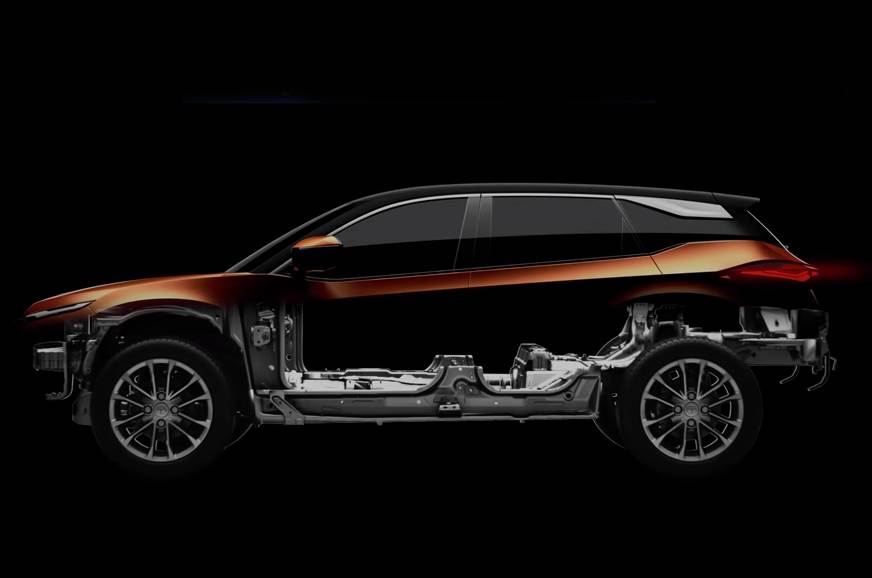 Tata H5X (Harrier) will be underpinned by Omega platform that is derived from Land Rover D8 architecture.
Tata H5X SUV has been making quite some buzz and the name of the car has been revealed as well. Christened as Tata Harrier, this is going to be the flagship model of Tata Motors. The SUV is based on the new and lightweight Omega architecture which is a derivative of the Land Rover D8 platform. This highly efficient and dynamic architecture is not only rigid and strong, but it also focuses on the space and comfort of the occupants.
Tata Motors has revealed the platform details of the Tata H5X and it appears the architecture will enable the SUV to take rough roads without hassle. Speaking about the Tata Omega platform comes with optimized torsional and bending stiffness. The floorpan will be similar to Land Rover models. An all-independent suspension will be there in order to make the riding quality smoother and there will be auxiliary isolation panels as well in order to keep the NVH level lowest as possible.
However, despite being based on the Land Rover D8 platform, the Tata Omega architecture will get some aluminium parts replaced with steel parts. Not only impressive amount of comfort and rigidity, Tata Omega platform has been developed with high level of safety in focus. The architecture gets cleverly designed crumple zones. Thanks to the extensive usage of high strength steel, the SUV will offer great level of protection to the occupants.
Tata H5X or Tata Harrier will be designed following the automaker's latest Impact 2.0 styling language. It is expected to come out true to the concept, just in line with the Tata Nexon compact SUV. There will be a 2.0-litre four-cylinder, turbo-diesel engine will be employed under the hood to squeeze juice for the big car. This same engine works in the Jeep Compass as well. Tata Harrier will come available in two different seating layouts and the engine too will churn out power output in two different states of tune.