ZIPTRON technology comprises of high-efficiency AC Motors coupled with dust and waterproof battery packs
Tata Motors has announced new electric vehicle technology christened as ZIPTRON. This new technology will power future electric cars from Tata Motors. The company says that ZIPTRON will bring a new benchmark in the EV industry with class-leading zippy performance. Tata Motors is betting on this state-of-the-art EV tech and will propel the future of eMobility in the country. First of the electric car with ZIPTRON will be launched in the Q4 of the Financial Year 2020, ie, in January-March 2020 time period.
The ZIPTRON is pegged as the building block of the Tata Motors' consistent strive for commonality, to drive the economies of scale and to make new technologies affordable for the Indian customers. It has noteworthy characteristics such as – efficient high voltage system, zippy performance, long-range per charge, fast charging capability, Battery packs with the 8-year warranty as well as IP67 dust and waterproof certification.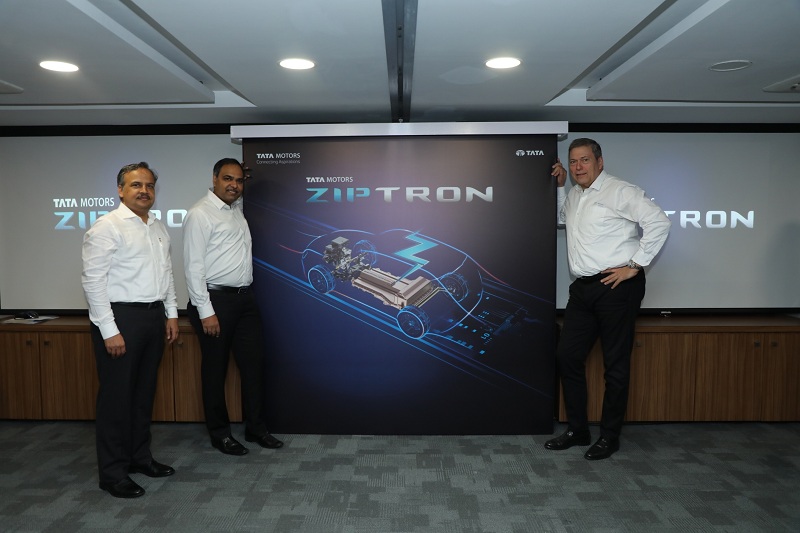 Guenter Butschek, CEO and MD of Tata Motors said that the company is proud of introducing the new state-of-the-art EV technology brand – ZIPTRON. The brand itself has been designed in-house by tata motors while utilizing our global engineering network. At the heart of Tata's future EV line-up, ZIPTRON will deliver a thrilling driving experience to the Indian customers also aspiring them to go green.
He further stated that the EV mobility system has been rigorously tested for about 1 million km which makes it well-proven, advanced and highly reliable. With this technology, they are hoping to usher a new wave of eMobility in India and accelerate faster adoption of EVs, supporting the Government's vision.
Key Features of ZIPTRON technology:
Highly efficient permanent magnet AC Motors
Superior performance on Demand
IP67 Certified Water and Dust Proof Battery packs
High voltage and energy density battery packs
Support for DC fast charging
Smart Regenerative Braking System
Tested for more than 1 million km
8-year battery warranty
For the Latest Car News Follow Us on Facebook, Twitter, Instagram, Google Plus