Hyundai Santro and Maruti Suzuki WagonR have been two most popular tallboy hatchbacks in India for long time.
Hyundai Santro is the most talked car in recent times in Indian market. The tallboy hatchback has made its grand comeback in the country in a new avatar and donning modern features as well. The new Hyundai Santro has already garnered pretty good attention with its refreshing style, modern features and efficient engine. The car competes with some tough rivals that include Maruti Suzuki Celerio, Tata Tiago and Maruti Suzuki WagonR.
The Maruti Suzuki WagonR has been one of the most successful hatchbacks of all time in Indian market. The car might not be as stylish and loaded as its new rival, all new Hyundai Santro. But the Maruti car certainly has its own takers who are impressed by the practicality, low cost of maintenance and affordability of this model. Now, let us take a close look at the spec-sheet based comparison between these two cars.
Hyundai Santro vs Maruti Suzuki WagonR – Price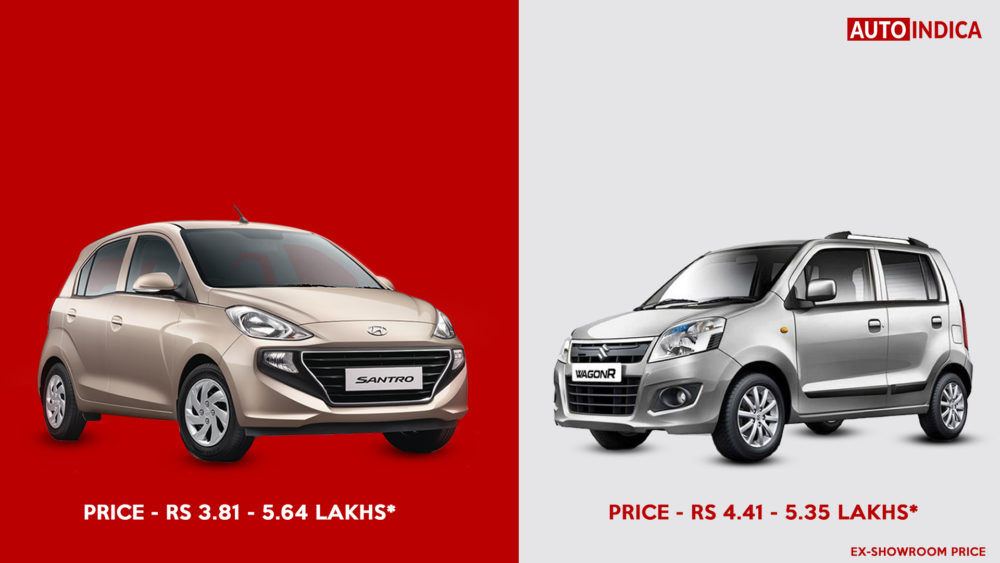 Hyundai Santro comes priced between Rs 3.81 lakh and Rs 5.64 lakh (ex-showroom), while the Maruti Suzuki WagonR is priced between Rs 4.41 lakh and Rs 5.35 lakh (ex-showroom). Clearly, the Hyundai Santro appears more affordable in the price sheet.
Hyundai Santro vs Maruti Suzuki WagonR – Specifications
Hyundai Santro is available in both petrol and CNG options. The petrol engine is a 1.1-litre Epsilon four-cylinder unit that is mated to a 5-speed manual gearbox. Also, there is an AMT as well. The petrol engine churns out 68 bhp of power and 99 Nm of torque. The CNG powered Santro kicks out 58 bhp and 84 Nm respectively. Speaking about the fuel efficiency, the Hyundai Santro comes offering 20.3 kmpl and 30.4 kmpl respectively for the petrol and CNG variants.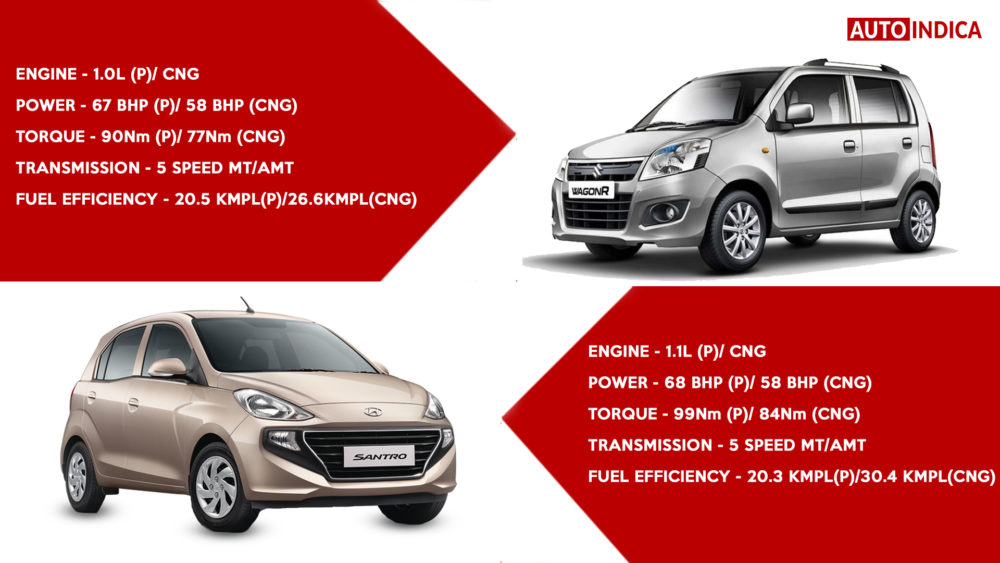 Maruti Suzuki WagonR comes powered by a 1.0-litre petrol engine, while there is a CNG variant as well. The petrol powered model is capable of kicking out 67 bhp of power and 90 Nm of torque, while the CNG model kicks out 58 bhp of power and 77 Nm of torque. Transmission options include a 5-speed manual gearbox and an AGS. Speaking about mileage, the petrol and CNG powered models generate 20.5 kmpl and 26.6 kmpl respectively.