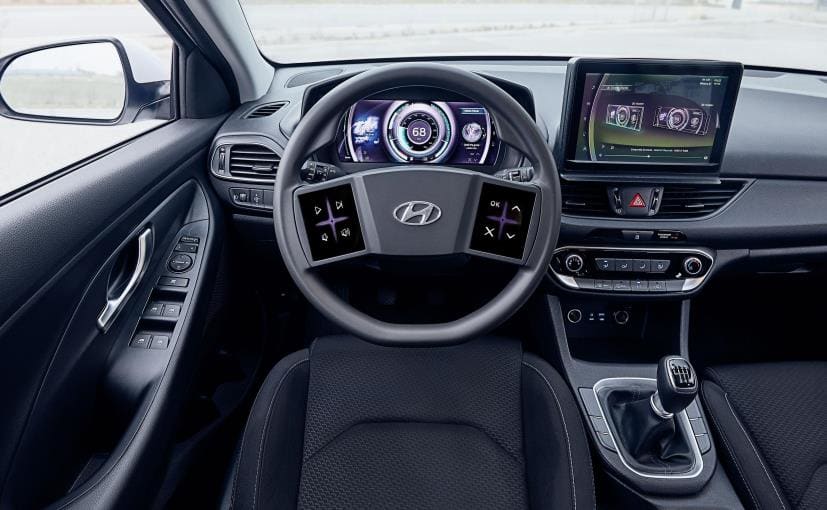 Hyundai Virtual cockpit concept boasts twin vertical touchscreens on steering, used in a Hyundai i30 test car
The virtual cockpit is something not very new concept in a car. Audi has already introduced this thing in its cars. Now, Hyundai seems to be the next carmaker to walk the same path and with more uniqueness. Hyundai virtual cockpit concept comes with dual steering mounted touchscreens. The virtual cockpit concept has been tested in a Hyundai i30 test car.
So how does the Hyundai virtual cockpit work? There will be more digital screens compared to the current-gen cars. Also, the Hyundai cars with virtual cockpit will come with connected technology and driver-friendly cabin. The steering wheel mounted touchscreens means there won't be any conventional buttons or even track-pads. These screens will work exactly like a smartphone screen.
There will be a central touchscreen display and a fully digital instrument cluster as well. The driver will be easily able to control different functions and modes right from the steering wheel by just touching. The reason behind the testing on an i30 is Hyundai doesn't want to keep this technology limited to the high-end cars. In that case, we might see the cars positioned lower in the Hyundai portfolio coming with the tech in the coming future.
The fully digital screen at the instrument cluster gets a multi-layer display with a new and very natural way of attention control. It gets dual displays, stacked behind each other at a distance of 6mm, offering 3D effects. One part of the graphic is shown in the front display, while the other in the rear one. This is another interesting feature of the new Hyundai technology.
It is not sure when Hyundai will start rolling out this technology commercially. But we can expect the virtual cockpit tech to come live sometime in 2020 or 2021. In that case, we could expect this tech to be available in the Indian market as well.
For the Latest Car News Follow Us on Facebook, Twitter, Instagram, Google Plus