Hyundai Nexo fuel cell electric vehicle has a range of 660 km
Today, MG unveiled its first electric car, ZS EV, for the Indian market but Hyundai dropped a bomb in the form of Fuel Cell technology. The Korean company claims to have started feasibility study of bringing a car running on Fuel Cell Technology to a country where only a handful of electric car models are on sale. The company says that Fuel Cell technology is the ultimate mobility solution of the future.
This shows that Hyundai is highly committed to the Government's vision of Zero Emission mobility. Not only this, but the Creta maker will convert its complete portfolio to zero-emission mobility by 2035.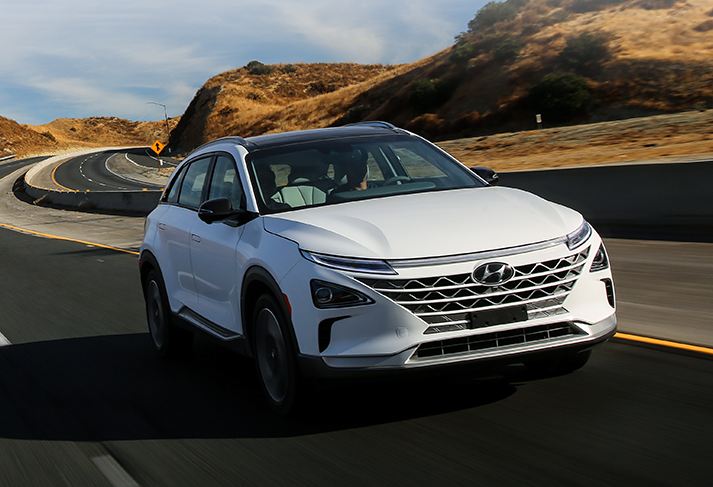 Fuel Cell is a revolutionary green technology but it being expensive due to the usage of rare metals like Platinum has subdued its advantages. In this system, hydrogen gas is used as fuel and this hydrogen gas cold-reacts with oxygen in the fuel cell which in turn creates electricity. This electric power is then used to run the electric motor in a fuel cell car.
The company says that progress with Zero Emission Mobility is their responsibility and vision to make a long-term positive impact on the environment which can be benefitted by future generations.
At present, Hyundai Nexo is the only production Fuel Cell electric car on sale in the international markets. Nexo is powered by a 95kW Fuel Cell which deliver the current to an electric motor with 160bhp rated power.
With all that power and torque, the Nexo can sprint from 0 to 100 kmph in 9.2 seconds with a top speed of 177 kmph. This makes the Hyundai Nexo a technological flagship of the company. The range of this fuel cell car is about 666 km before it runs out of juice. Oh, and the juice is Hydrogen if you can fill it.
Hyundai will most probably bring the Nexo via CBU route as local production will be very expensive for the new technology.
For the Latest Car News Follow Us on Facebook, Twitter, Instagram, Google Plus